Twenty one neighborhood leaders met Thursday evening, March 13, to consider 2007 crime statistics and maps. These leaders represented La Madera, Haciendas de Oeste, Oak Flower, Sam Hughes, Colonia del Valle, Rosemont West, South Park, Miramonte, San Clemente, Palo Verde, Southside Neighborhood Association Presidential Partnership (SNAPP), Hedrick Acres, Peter Howell, Sombras del Cerro and West University neighborhoods and groups.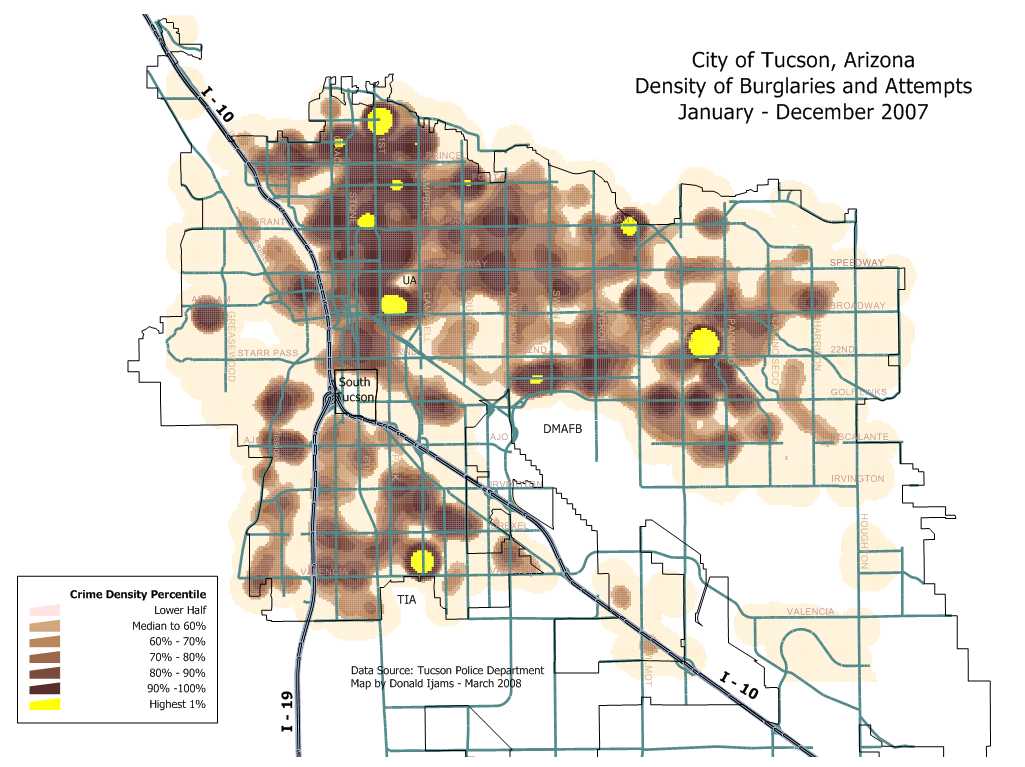 Leaders considered graphs of Tucson's declining crime rates . Fourteen years of annual crime rates per 100,000 persons, ending with 2007, gave leaders a feel for Tucson's overall crime picture. Maps of crime concentrations of all crime, violent crime, burglary, vehicle theft and narcotics were reviewed and discussed. Based on crime density maps, 29 of the hardest hit neighborhoods in 2007, from West to East across the City, were identified as: Midvale, Sunnyside, Sunset Villa, Santa Rita Park, Barrio Santa Rosa, Armory Park, Iron Horse, Pie Allen, Rincon Heights, West University, Barrio Hollywood, Balboa Heights, Miracle Manor, Keeling, Amphi, Limberlost, Dodge-Flower, Oak Flower, Palo Verde, Miramonte, Alvernon Heights, Roberts, Naylor, Myers, Sierra Estates, Highland Vista Cinco Via, Sewell, Terra del Sol and Dietz.
Neighborhood leaders' roles in working jointly with Tucson Police were discussed. The Grant / Alvernon project, used as an example, is being spearheaded by TPD Midtown Division and began implementation Feb. 4. Blanche White, President of Oak Flower NA and Ronni Kotwica, Vice President of Palo Verde NA, discussed various aspects of working with TPD. Messages for other leaders on projects like this include: recognizing that many approaches to crime reduction are needed since any one or two are not sufficient, looking for long term effects, asking questions about what is going to change and how neighbors will know, and appreciating the need for generating extended involvement of residents, businesses and others in such projects.
As an educational segment of the evening's program, leaders were shown the COPS crime triangle and talked over various crime reduction stategies that come from considering the following questions: Who / What Handles the Offender? Who / What Manages the Place? Who / What Guards the Victim / Target?

Those in attendance had no specific suggestions for next steps that NSN could take, but agreed that more meetings on crime topics were desirable. The MS PowerPoint presentation used in the meeting is available for review.